---
Product:

Flangate Valve

Item No.:
Z41H/Y
Calibre:
DN15~DN1000
Nominal Pressure:
1.6~42.0MPa
Description: Flangate valves are gate valves that are connected by flange, which is the most common form of connection. Flanct valves are stable and reliable when used in lines, so flanges are used on high-pressure lines. Flange-connected cast steel gate valve is suitable for the nominal pressure PN1.6 to 42.0MPa, operating temperature ≤ 600 degrees C of petroleum, chemical, thermal power stations and other operating conditions of the pipeline, cut off or connected pipe media.
Specification:
design and manufacture of strict GB/T12234 standards. Product structure is reasonable, reliable sealing, excellent performance, beautiful shape.
sealing surface welding Co-based carbide, wear, corrosion, anti-abrasive performance is good, long service life.
the stem by the quality and surface nitride treatment, has a good corrosion resistance and anti-abrasive.
the nominal pressure PN ≥ 15.0MPa (Class900) cavity using self-tight sealing structure, sealing performance with the increase of pressure and enhance, to ensure sealing performance.
the valve has an inverted sealing structure, seal reliable.
part material and flange, welding end size can be based on the actual operating conditions or user requirements reasonable selection, to meet a variety of engineering needs.
Product Performance of Item No. Z41H/Y

Model No.

PN

Operating pressure

(

MPa

)

Temperature

(

℃

)

Medium

Z41W-16P~25P

16~25

1.6~2.5

≤ 150

Weak corrosive media

Z41Y-16P~25P

Z41W-16R~25R

Z41Y-16R~25R

Z41W-40P~63P

40~63

4.0~6.3

≤ 150

Weak corrosive media

Z41Y-40P~63P

Z41W-40R~63R

Z41Y-40R~63R

Z41Y-100P~160P

100~160

10.0~16.0

≤ 150

Weak corrosive media

Z41Y-100R~160R

Z41H-40P~200P

40~200

4.0~20.0

≤ 200

Nitric acid

Z41H-40R~200R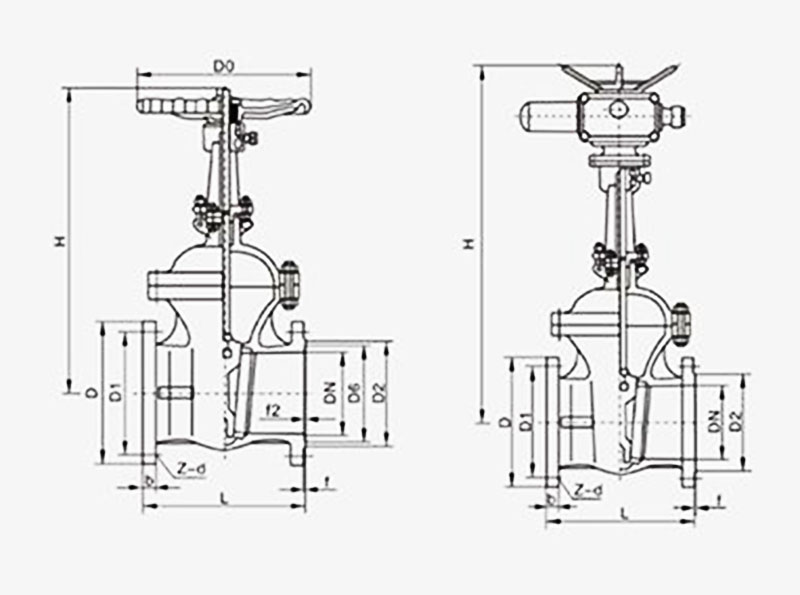 Prime out-form dimensions
for Z41H/Y (PN16)
| | | | | | | | | | | |
| --- | --- | --- | --- | --- | --- | --- | --- | --- | --- | --- |
| DN | L | D | D1 | D2 | b | f | z×ød | H | D0 | N.W. / kg |
| 15 | 130 | 95 | 65 | 45 | 14 | 2 | 4×ø14 | 175 | 200 | 4 |
| 20 | 150 | 105 | 75 | 55 | 14 | 2 | 4×ø14 | 180 | 200 | 5 |
| 25 | 160 | 115 | 85 | 65 | 14 | 2 | 4×ø14 | 210 | 200 | 6 |
| 32 | 180 | 135 | 100 | 78 | 16 | 2 | 4×ø18 | 210 | 200 | 7 |
| 40 | 200 | 145 | 110 | 85 | 16 | 3 | 4×ø18 | 350 | 200 | 19 |
| 50 | 250 | 160 | 125 | 100 | 16 | 3 | 4×ø18 | 358 | 240 | 29 |
| 65 | 265 | 180 | 145 | 120 | 18 | 3 | 4×ø18 | 375 | 240 | 33 |
| 80 | 280 | 195 | 160 | 135 | 20 | 3 | 8×ø18 | 433 | 280 | 45 |
| 100 | 300 | 215 | 180 | 155 | 20 | 3 | 8×ø18 | 502 | 320 | 63 |
| 125 | 325 | 245 | 210 | 185 | 22 | 3 | 8×ø18 | 612 | 360 | 108 |
| 150 | 350 | 280 | 240 | 210 | 24 | 3 | 8×ø23 | 676 | 360 | 134 |
| 200 | 400 | 335 | 295 | 265 | 26 | 3 | 12×ø23 | 820 | 400 | 192 |
| 250 | 450 | 405 | 355 | 320 | 30 | 3 | 12×ø25 | 969 | 450 | 273 |
| 300 | 500 | 460 | 410 | 375 | 30 | 4 | 12×ø25 | 1142 | 560 | 379 |
| 350 | 550 | 520 | 470 | 435 | 34 | 4 | 16×ø25 | 1280 | 640 | 590 |
| 400 | 600 | 580 | 525 | 485 | 36 | 4 | 16×ø30 | 1452 | 640 | 850 |
| 450 | 650 | 640 | 585 | 545 | 40 | 4 | 20×ø30 | 1541 | 720 | 907 |
| 500 | 700 | 705 | 650 | 608 | 44 | 4 | 20×ø34 | 1676 | 720 | 958 |
| 600 | 800 | 840 | 770 | 718 | 48 | 5 | 20×ø41 | 1874 | 800 | 1112 |
Prime out-form dimensions
for Z41H/Y
(
PN25

)
| | | | | | | | | | | |
| --- | --- | --- | --- | --- | --- | --- | --- | --- | --- | --- |
| DN | L | D | D1 | D2 | b | f | z×ød | H | D0 | N.W. / kg |
| 15 | 130 | 95 | 65 | 45 | 16 | 2 | 4×ø14 | 175 | 200 | 4 |
| 20 | 150 | 105 | 75 | 55 | 16 | 2 | 4×ø14 | 180 | 200 | 5 |
| 25 | 160 | 115 | 85 | 65 | 16 | 2 | 4×ø14 | 210 | 220 | 6 |
| 32 | 180 | 135 | 100 | 78 | 18 | 2 | 4×ø18 | 210 | 220 | 7 |
| 40 | 200 | 145 | 110 | 85 | 18 | 3 | 4×ø18 | 350 | 220 | 18 |
| 50 | 250 | 160 | 125 | 100 | 20 | 3 | 4×ø18 | 358 | 250 | 25 |
| 65 | 265 | 180 | 145 | 120 | 22 | 3 | 8×ø18 | 373 | 280 | 35 |
| 80 | 280 | 195 | 160 | 135 | 22 | 3 | 8×ø18 | 435 | 300 | 50 |
| 100 | 300 | 230 | 190 | 160 | 24 | 3 | 8×ø23 | 500 | 350 | 65 |
| 125 | 325 | 270 | 220 | 188 | 28 | 3 | 8×ø25 | 614 | 400 | 100 |
| 150 | 350 | 300 | 250 | 218 | 30 | 3 | 8×ø25 | 674 | 450 | 135 |
| 200 | 400 | 360 | 310 | 278 | 34 | 3 | 12×ø25 | 818 | 500 | 180 |
| 250 | 450 | 425 | 370 | 332 | 36 | 3 | 12×ø30 | 969 | 550 | 207 |
| 300 | 500 | 485 | 430 | 390 | 40 | 4 | 16×ø30 | 530 | 560 | 400 |
| 350 | 550 | 550 | 490 | 448 | 44 | 4 | 16×ø34 | 1280 | 640 | 631 |
| 400 | 600 | 610 | 550 | 505 | 48 | 4 | 16×ø34 | 1450 | 640 | 900 |
| 450 | 650 | 660 | 600 | 555 | 50 | 4 | 20×ø34 | 1541 | 720 | 1013 |
| 500 | 700 | 730 | 660 | 610 | 52 | 4 | 20×ø41 | 1676 | 720 | 1166 |
| 600 | 800 | 840 | 770 | 718 | 56 | 5 | 20×ø41 | 1874 | 800 | 1258 |
| 700 | 900 | 955 | 875 | 815 | 60 | 5 | 24×ø48 | 2280 | 850 | — |
| 800 | 1000 | 1070 | 990 | 930 | 64 | 5 | 24×ø48 | 2420 | 900 | — |
Prime out-form dimensions
for Z41H/Y
(
PN

40-63

)
DN

L

D

H

W

N.W. / kg

50

250

160

685

250

30

175

30

65

280

180

705

250

41

200

300

42

80

310

195

780

250

48

210

350

51

100

350

230

805

300

78

250

400

80

125

400

270

890

350

112

295

400

125

150

450

300

945

350

152

340

1002

450

175

200

550

375

1100

400

200

405

1150

450

220

250

650

445

1350

450

300

470

500

320

300

750

510

1445

500

450

530

1528

650

490

350

850

570

1665

—

680

595

1792

—

700

400

950

655

1930

—

850

670

2180

—

920
Prime out-form dimensions
for Z41H/Y
(
PN

100

)
| | | | | | |
| --- | --- | --- | --- | --- | --- |
| DN | L | D | H | W | N.W. / kg |
| 50 | 250 | 195 | 680 | 300 | 48 |
| 65 | 280 | 220 | 720 | 300 | 68 |
| 80 | 310 | 230 | 870 | 350 | 92 |
| 100 | 350 | 265 | 885 | 400 | 133 |
| 125 | 400 | 310 | 1020 | 450 | 216 |
| 150 | 450 | 350 | 1110 | 500 | 275 |
| 200 | 550 | 430 | 1225 | 500 | 360 |
| 250 | 650 | 500 | 1257 | 550 | 700 |
Prime out-form dimensions
for Z41H/Y

(

PN

160

)
| | | | | | |
| --- | --- | --- | --- | --- | --- |
| DN | L | D | H | W | N.W. / kg |
| 65 | 340 | 245 | 820 | 350 | 110 |
| 80 | 390 | 260 | 850 | 350 | 145 |
| 100 | 450 | 300 | 980 | 400 | 192 |
| 125 | 525 | 355 | 1050 | 450 | 307 |
Prime out-form dimensions
for Z41H/Y

(

PN

200

)
| | | | | | |
| --- | --- | --- | --- | --- | --- |
| DN | L | D | H | W | N.W. / kg |
| 50 | 350 | 210 | 712 | 350 | 108 |
| 65 | 410 | 260 | 765 | 400 | 195 |
| 80 | 470 | 290 | 835 | 450 | 250 |
| 100 | 550 | 360 | 950 | 500 | 350 |
| 125 | 650 | 385 | 1080 | 500 | 540 |
| 150 | 750 | 440 | 1140 | 600 | 738 |
---
All Copyright © Shanghai Petro Valve Factory
Factory Add: No.318 Fulian 2 Road, Baoshan Disctrict, Shanghai City, China
Marketing Add: No. 301-3, Lunchang Road, Lunchang Town, Nanan City, Fujian, China
Tel: 0086 595 23225000, 0086 189 0505 9981
Email: topval1992@163.com